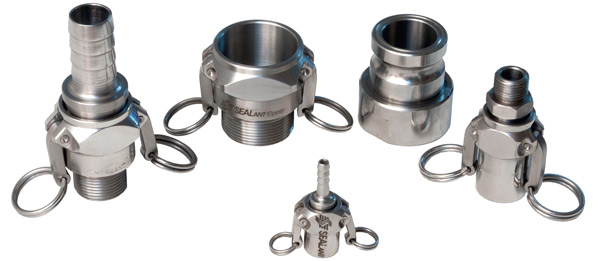 We are Manufacturer, Supplier, Exporter of Camlock Couplings For Chemical, Petrol, Water, Pharmaceutical Industries and our setup is situated in Pune, Maharashtra, India. Majorly we serve our customers from Asian countries like Afghanistan, Bahrain, Bangladesh, Bhutan, Brunei, Burma, Cambodia, China, Hong Kong, India, Indonesia, Iran, Iraq, Israel, Japan, Jordan, Kazakhstan, North Korea, South Korea, Kuwait, Kyrgyzstan, Laos, Lebanon, Malaysia, Maldives, Mongolia, Nepal, Oman, Pakistan, Philippines, Qatar, Russia, Saudi Arabia, Singapore, Sri Lanka, Syria, Taiwan, Tajikistan, Thailand, Timor-Leste, Turkmenistan, United Arab Emirates, Uzbekistan, Vietnam, Yemen.
• Loading & unloading of tanker for water, petrol and chemicals.
• Internationally accepted design for Fire Fighting hose connections
• For large vacuum or suction lines;
• Flow of powders in chemical, pharmaceutical and Fertilizer industries
• Cooling water connections for paper rolling mills.
• Unloading from large storage tanks for paints or chemicals

Pressure Range - HPC model


| | | | |
| --- | --- | --- | --- |
| Material | Brass | Steel | Stainless Steel |
| Normal pressure (Kg/cm2) | 22 | 80 | 70 |
| Maxi pressure (kg/cm2)l | 26 | 120 | 100 |

Provides easiest way of connection on large diameter pipes. Gives uniform circular surface sealing No friction so no seal wear & hence longer life No hinderance to flow so the pressure drop is minimum. Can be locked to prevent accidental opening.

Special Features of HPC model :

All parts are machined out of drawn rods. Casting or Welding is not used. This increases the strength & capacity to withstand high pressures. Heat treatment & tempering gives high wear
resistance where necessary.

---

---
---