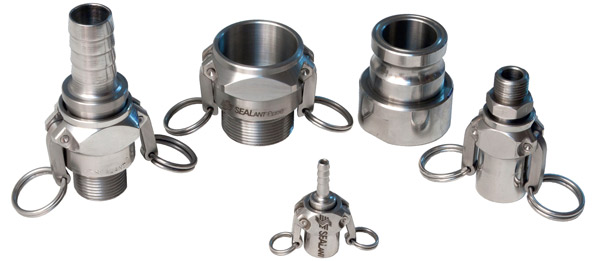 Camlock Couplings For Chemical, Petrol, Water, Pharmaceutical Industries, Camlock Coupling Manufacturer, Supplier, Exporter, Pune, Maharashtra, India
• Loading & unloading of tanker for water, petrol and chemicals.
• Internationally accepted design for Fire Fighting hose connections
• For large vacuum or suction lines;
• Flow of powders in chemical, pharmaceutical and Fertilizer industries
• Cooling water connections for paper rolling mills.
• Unloading from large storage tanks for paints or chemicals

Pressure Range - HPC model


| | | | |
| --- | --- | --- | --- |
| Material | Brass | Steel | Stainless Steel |
| Normal pressure (Kg/cm2) | 22 | 80 | 70 |
| Maxi pressure (kg/cm2)l | 26 | 120 | 100 |

Provides easiest way of connection on large diameter pipes. Gives uniform circular surface sealing No friction so no seal wear & hence longer life No hinderance to flow so the pressure drop is minimum. Can be locked to prevent accidental opening.

Special Features of HPC model :

All parts are machined out of drawn rods. Casting or Welding is not used. This increases the strength & capacity to withstand high pressures. Heat treatment & tempering gives high wear
resistance where necessary.

---

---

---